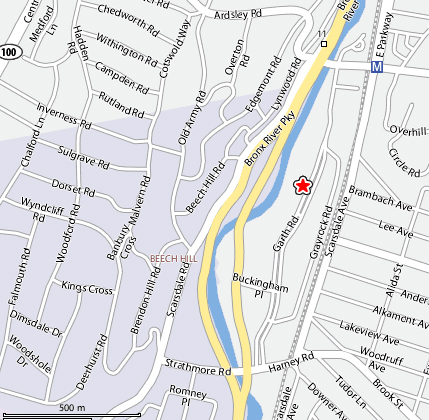 The Scarswold is within 10 minutes walking distance from the Scarsdale train station.
Scarsdale is on the Harlem line of the New York Metro North Railroad and is a comfortable, 30 minute ride to Grand Central Station in Manhattan.
For those driving, the Bronx River Parkway is best. See map at left.
The village of Scarsdale is also a 10 minute walk away and offers a tea shop and several pleasant restaurants on the main shopping streets. Important amenities and services, e.g., cleaners, laundry, shoe-maker, gym are nearby. A major shopping area is located in White Plains which is 5 miles away.
The Scarswold on Garth Road is served by the highly rated Eastchester public schools and school bus service is provided.
There is a park at the end of the block and, on-site, the rear Scarswold gardens overlook the Garthwoods Conservatory. Scarswold has 3 private gardens planted to bloom for three seasons.
From NYC (West Side):

Take the West Side Highway to Henry Hudson Pkwy North
Continue on the Henry Hudson Parkway to Cross County Pkwy East
Stay in the right lane
Take exit 4-5-6 (all on exit) to Bronx River Parkway
Take Bronx River Parkway to exit 10 for Harney Road
Make a right, then the next immediate left at the light onto Garth Road
Go to the 3rd turn around, reverse direction
Find 155 Garth Road, The Scarswold



From Connecticut:

Take the Merritt Pkwy S to Hutchinson River Pkwy S
Take the Hutchinson River Pkwy S to Cross County Pkwy W
Take the Cross County Pkwy to Bronx River Pkwy North
Take exit 10 for Harney Road
Continue as directed fron NYC



From the East Side:

Take FDR to the Major Deegan Expwy
Exit at Cross County Parkway East
Follow signs to the Bronx River Parkway
Continue as directed from the West Side